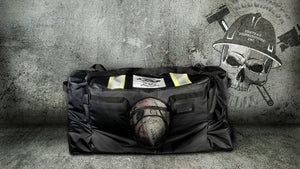 Dirtbag Distributors Inc.
Official Roughneck Dirtbag
Sale price Price $249.99 Regular price $249.99
The official Roughneck Dirtbag 
AVAILABLE NOW- NEW VERSION - SAME GREAT BAG SLIGHTLY SMALLER SIZE! THE DIRTBAG 
 For all orders outside of Canada and the USA please contact us directly
dirtbagdistributorsinc@gmail.com
With working in the oil field for over 15 years I have always wanted a more appropriately designed bag to carry all my gear, to and from work but there was never a bag suitable on the market. Over the course of the last 5 years I have designed, tested and selected a final prototype of this bag which is now in full production and ready for sale. These oilfield work gear bags are made of very durable water resistant material with water resistant zippers. They will carry multiple pairs of coveralls, winter gear, PPE, work boots as well as hard hat. 
The ultimate work bag: 18" high x 38" long x 16" deep (boot pockets 6" wide) (measurements are approximate)
Custom and wholesale orders available please contact dirtbagdistributorsinc@gmail.com or call Carmen @ 250-878-7244